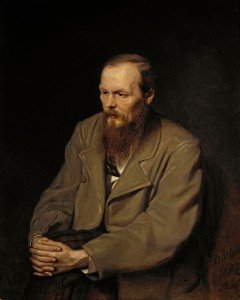 Dostoevsky, the great Russian writer famous for the epic novel Crime and Punishment, was born 194 years ago on 11 November 1821. To mark his birthday, we're celebrating the contribution his life and works make to tourism in Russia to this day.
Though born in Moscow, Fyodor Dostoevsky is most closely associated with St Petersburg. It's possible to take walking tours to the main sites associated with him and his novels. The apartment in which he lived with his wife and children up to his death in 1881 and where he wrote his final novel, The Brothers Karamazovs, has been turned into a museum. It's a good starting point, providing an insight into what everyday life was like for the writer. Nearby, you can visit the Vladimirskaya Church to see where his burial service took place, though to pay your respects at his grave you'll have to travel slightly further to the Tikhvinskoe cemetery at the Alexander Nevsky Monastery. There, in the company of other notable writers, actors, artists and composers such as Tchaikovsky and Borodin, Dostoevsky's remains are interred.
The St Petersburg about which Dostoevsky wrote wasn't the city of grand palaces and elegant mansions. Instead, his novels were written against a backdrop of dark lanes and streets lined with tenement blocks, narrow canals and gloomy yards, within which his most unsavoury characters go about their business. Crime and Punishment's protagonist, Raskolnikov, plots and carries out murder in an impoverished city whose problems mirror his own. For the modern day tourist, it's an effective way of adding subtext to the story they're uncovering of showy St Petersburg.
The city itself has had a love-hate relationship with Dostoevsky. Dostoevskaya station on the Pravoberezhnaya Line of the St Petersburg metro opened in 1991 and there's been a monument to him located at Vladimirskaya Ploshchad since 1997. The sculptor, Kholina, wanted to set her design where Krukhov Canal meets Canal Griboedova, in the part of the city where the writer set his novel White Nights, but was overruled. But we shouldn't forget that amidst Russia's turbulent past, this is also the writer that served four years in Siberia's forced labour camps, saved from execution in Peter and Paul's Fortress only by the intervention of the Tsar himself.