Have you ever watched a design or home improvement programme on TV and thought that sometimes, the homeowner doesn't quite get the say that they should in what's being done to their own property? Worse, have you ever spent money on your own renovation project and decided that the result wasn't quite what you had in mind? Most of us don't have enough spare cash to redo the work, but then we aren't Russian emperors and we certainly don't have a Royal budget.
In the 18th century, Catherine the Great commissioned a grand palace for her son, Grand Duke Paul and his wife Maria. She loaned them her official architect, Charles Cameron, and gave the couple a thousand hectares of woodland beside the Slavyanka River, up the road from Tsarskoye Selo, the palace he had designed for her. Some would say Cameron did a great job, creating an elegant and simple Palladian home for the Royal pair. That's not to say it wasn't grand: a three storey palace with a dome, colonnades and galleries decorated with friezes and reliefs.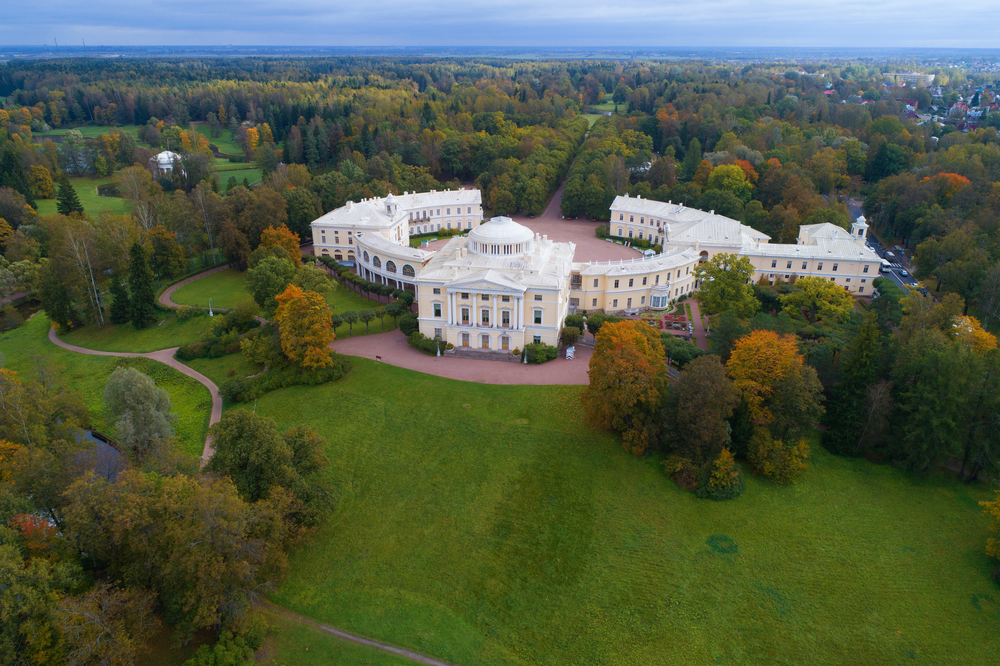 Leaving the builders behind, Paul and Maria set off for a tour of Europe which would take them to Italy, Austria and Germany. In France, they fell in love with the beauty of palaces like Versailles and Chantilly with their magnificent and immaculately landscaped gardens. Along the way, they shopped for antique furniture, clocks, paintings and porcelain. Though they kept abreast of progress, their vision for the property didn't match that of Cameron, and unsurprisingly, things became a little tense.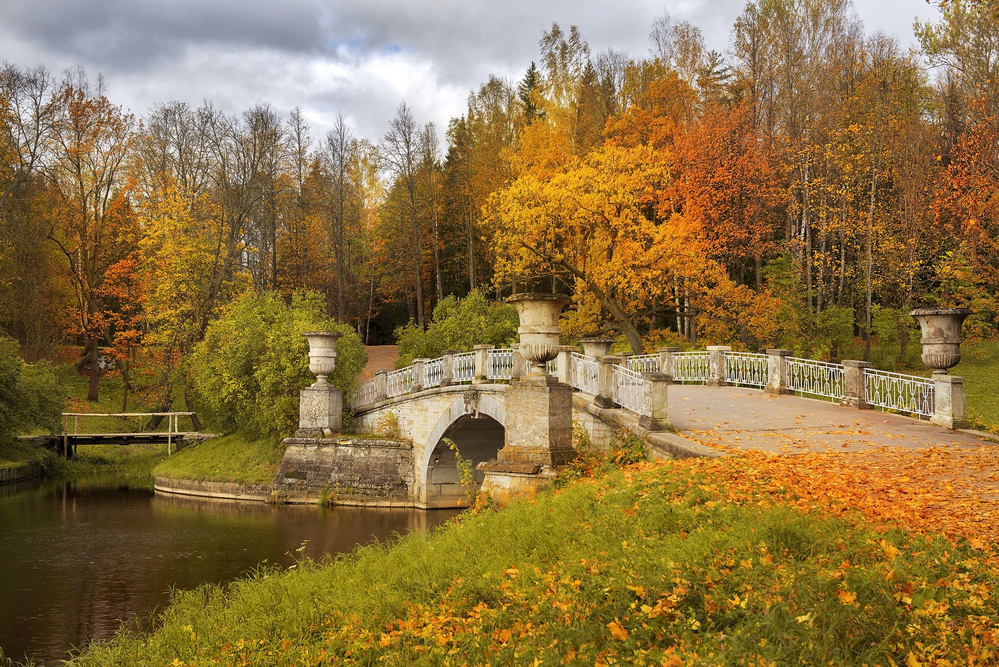 Cameron was unhappy at Maria's unsolicited purchases, while Maria didn't find the bright colours Cameron had chosen to her exacting tastes. Paul didn't much care for the similarities between his house and that of his mother, and found the place a little too austere for his liking. Four years after work began, inevitably perhaps, they parted company. Cameron set off for the Crimea to build Catherine a new palace and Paul hired an Italian, Vincenzo Brenna, to complete the interiors.
Fortunately, Brenna was more in tune with his employers' wishes than his predecessor had been. He oversaw the creation of a palace that was more suited to the status of its occupants. It was lavishly furnished with false marble, silks and gilded detailing, and heavily influenced by ancient Greece and Rome. When Catherine died in 1798, Paul became Emperor of Russia and with that elevation in status came an extended, more imposing palace. Curved wings fanned out from the original building, closing in around a courtyard, with a statue of Paul placed right in the centre.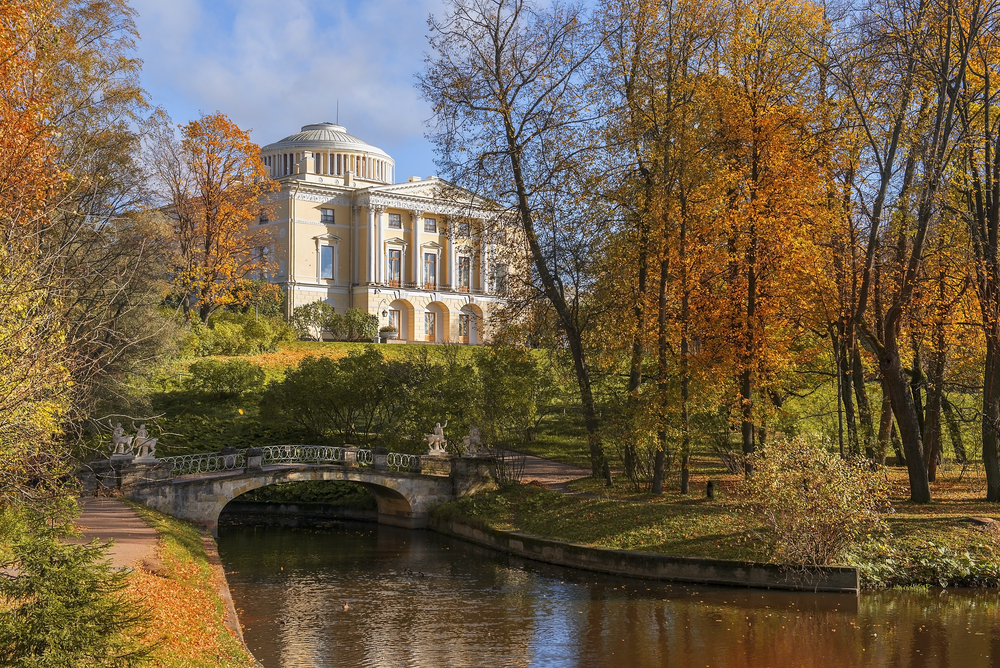 No expense was spared, but Paul's joy was to be short-lived. He'd made enemies of the nobles in his court and was murdered in 1801. When fire destroyed a large part of the palace in 1803, Maria called upon Cameron and Brenna to rebuild, also enlisting the help of a Russian architect called Andrei Voronykhin and later, Italian Carlo Rossi, to recreate the palace she adored. Pavlovsk Palace remained Maria's residence until her death in 1828, a memorial to her late husband and their extravagant tastes. In her will, she stipulated that none of the furniture should be removed. Her descendants respected her wishes, and the house effectively became a family museum, remaining so after the Russian Revolution, though ownership of course passed to the state. Heavily damaged in World War Two, careful repair work ensured that it was eventually restored to its former glory.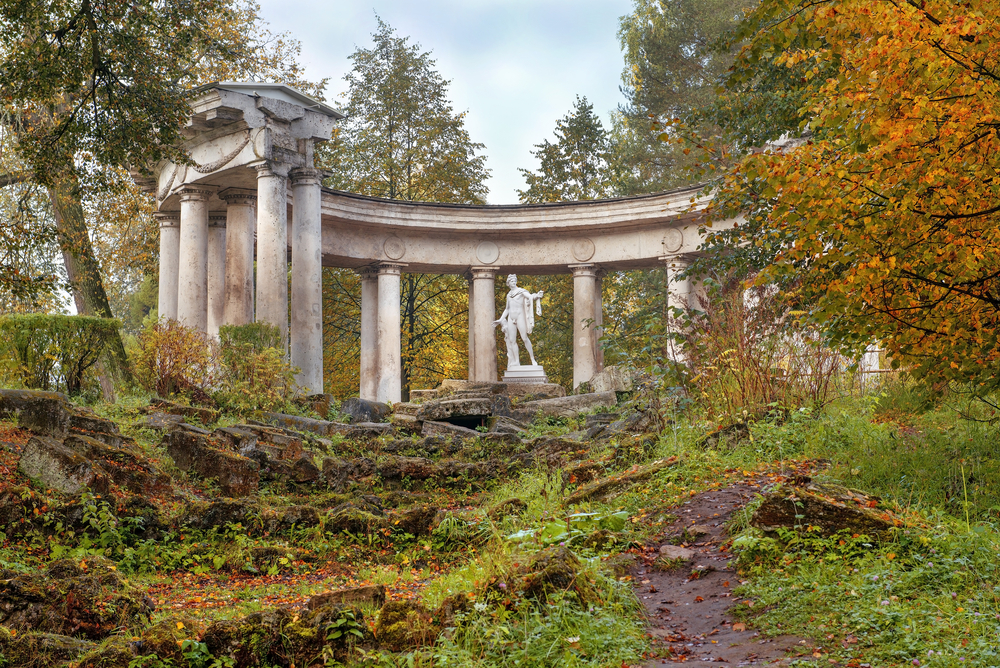 Today, Pavlovsk Palace is one of the most popular sights in the St Petersburg area. Visitors are drawn not only to the palace itself, but to the beautifully landscaped garden that surrounds it. The pictures you'll see online don't do it justice. Why not come and admire Emperor Paul's grand design and see what you think of it in real life?