In Russia, January 25th marks Tatiana's Day. This annual public holiday is also known as Students Day, but it's actually a religious holiday named after Saint Tatiana who was a Christian martyr back in Roman times. The link to education was forged later. In 1755, Empress Elizabeth agreed to the founding of a university in Moscow. She'd been petitioned by her Minister of Education, Ivan Shuvalov, a passionate advocate of education, establishing not only Moscow University but also the Imperial Academy of Arts in St Petersburg. The decree setting up Moscow University was signed on 25th January on the name day of Shuvalov's mother Tatiana, to whom he dedicated the institution with the words "дарю тебе университет" (translating as "I give you a university").
The Russian Orthodox Church declared Saint Tatiana to be the patron saint of students and the celebrations have continued ever since. There's been a church on the Moscow University campus named for Saint Tatiana since 1791 and each year on the 25th January a special service is held, followed by rousing speeches and a prize-giving ceremony. The day coincides with the end of the winter exams and the start of the holidays, and students throughout Russia, not just in Moscow, uphold this longstanding tradition of partying – all in the name of history, of course. They begin by drinking honey mead, following in the footsteps of some esteemed predecessors. Chekhov, no less, wrote in 1885: "This year everything was drunk, except the water from the Moscow river, and only because it was frozen."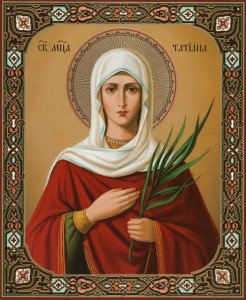 As with many other European countries where the Catholic or Orthodox Church retains its importance, name days are a big deal in Russia. People celebrate the day that they were born, and also the day of the saint they're named after. That means two birthdays: cards, flowers, parties, the works. Coming hot on the heels of Tatiana, Ninas celebrate on 27th January, followed amongst many others by the Anastasias on 4th February, Annas on 16th February (the first of several) and Julias on 16th June.
Chekhov fans will know that Irina's name day falls on 29th April – the first act of his play "The Three Sisters" is devoted to the character's celebrations for her name day. That's not the only reference to name days in Russian literature. Tatiana's day is mentioned in Pushkin's "Eugene Onegin" and in Tolstoy's epic "War and Peace", the mother and daughter of the Rostov family celebrate Natalya's day.
If you want to see if your name is featured, you can check the full list here. And if you find it, or that of a loved one, how about spending your name day in the country itself?